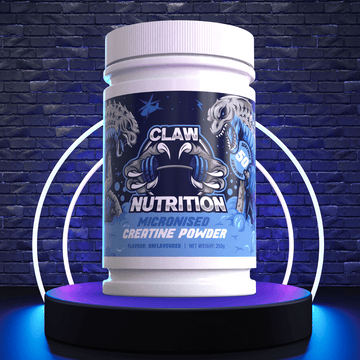 Creatine - 50 servings - 250g - Unflavoured
Sale price
$28.00
Regular price
Product description
Shipping & Return
Are you tired of hitting a plateau in your fitness routine?
Ready to break through barriers and achieve unparalleled gains?
Look no further than our Micronized Creatine Monohydrate Powder!
Our premium-grade, lab-tested creatine powder is a game-changer that can help you reach your fitness goals like never before.
With our formula, you'll experience a wide range of benefits.
First and foremost, our creatine powder is scientifically proven to increase muscle strength, power, and endurance.
It gives your muscles the energy they need to perform at their peak, allowing you to push harder, lift heavier, and maximize your workouts.
This means faster gains, increased muscle mass, and improved athletic performance.
But that's not all!
Our Micronized Creatine Monohydrate Powder also aids in muscle recovery, reducing muscle damage and soreness after intense exercise.
This means you can bounce back faster, train more frequently, and make consistent progress towards your fitness goals.
What sets our creatine powder apart is its micronized form. The smaller particles allow for faster absorption, ensuring that your body can utilize the creatine quickly and efficiently.
It's also unflavored and odourless, making it easy to mix into any beverage or protein shake without affecting the taste, and providing a convenient and versatile option for incorporating creatine into your routine.
When you choose Claw Nutrition Micronized Creatine Monohydrate Powder, you're choosing a product that is manufactured in a GMP-certified facility, guaranteeing the highest level of purity and potency.
Our formula is gluten-free, non-GMO, and free from harmful additives or preservatives, making it a safe and reliable choice for athletes of all levels.
Don't settle for average results.
Unlock your true potential with Claw Nutrition Micronized Creatine Monohydrate Powder and experience the performance-enhancing benefits that countless athletes trust.
Elevate your workouts, optimize your gains, and surpass your fitness goals with this powerful and effective creatine powder.
Invest in yourself and experience the Claw Nutrition difference!
100% Satisfaction Guarantee
We are confident in the quality and effectiveness of our tongkat ali supplement, and we want you to experience the benefits with peace of mind. That's why we offer a 100% satisfaction guarantee.
If you're not completely satisfied with your purchase, simply contact us within 30 days of receiving your order, and we will gladly refund your purchase price, no questions asked. We believe in our product and its ability to deliver results, and we stand by it.
Here's how our money-back guarantee works:
Contact us: If you're not satisfied with your supplement, simply contact our customer service team via hello@clawnutrition.com within 30 days of receiving your order.

Return the product: We will provide you with instructions on how to return the product, and we ask that you return the unused portion of the product to us.

Receive your refund: Once we receive the returned product, we will process your refund for the purchase price of the product. Please note that shipping and handling charges are non-refundable.
We are committed to your satisfaction and believe in the quality of our product. We want you to feel confident in trying our tongkat ali supplement and experiencing its benefits.
Take the first step towards improved energy, vitality, and performance with our risk-free purchase today
Shipping is free in the UK, a express option is also available for £5 for those who cant wait.
International shipping is £10
We want you to be 100% satisfied with your purchase. Items can be returned or exchanged within 30 days of delivery.
Great product
Best creatine on the market I am enjoying every product with claw nutrition my orders are always on time. Proud clawnutrition athlete
Creatine - 50 servings - 250g - Unflavoured
Great product
Really solid product. Delivery was quick and comes in nice packaging. Exactly how described. Will definitely be buying from Claw Nutrition again.
Not bad so far
Only just started using the product so bit early to give detailed review but mixed well which is always good
Brilliant
Mixes well with water and doesn't leave any tiny bits at the bottom like other creatine products, great quantity for the price and lovely service.